Regular price
$35.00 USD
Sale price
$32.00 USD
Unit price
per
Sale
Sold out
"New Card Compositions by 29 German & Swiss Masters"
For many years the United States has dominated the world of card magic through generations of expert and innovative close-up magicians. But during the last years of the twentieth century a fresh spring of artistry and inventiveness began spilling over borders from Europe,and a sudden new vortex of magical creativity arose from Germany, manifesting itself particularly strongly at the 1997 and 2000 FISM world-championship competitions. In Concertos for Pasteboard, Oliver Erens, the prize-winning editor and publisher of two of Germany's most acclaimed recent collections of quality card magic, offers to English-language readers the best offerings of those volumes by magicians from Germany, Austria and Switzerland. The result is an invigorating shot of fresh ideas, novel effects and clever methods by some of the most creative minds in card magic today.
Concertos for Pasteboard features a remarkable breadth of material. The tricks, which are helpfully classified for skill level, range from nearly sleightless to technically demanding, and their potential to surprise and amaze is consistently high. Pit Hartling, Helge Thun and Jrg Willich, members of the innovative, FISM-prize-winning group The Flicking Fingers contribute tricks of astonishing ingenuity, frequently fortified by a touch of wild comic invention. In Helge Thun's "Captain Hook's Card Trick", for example, the famous hook-handed pirate locates a chosen card in a miraculous manner; while Jrg Willich manages the same feat with a hand-held electric blender! For those searching for more serious mysteries, there is Peter Grandt's method for doing a piece-by-piece restoration of a signed selection, achieving the effect of Guy Hollingworth's famous "Reformation" with an unprepared deck and no loss in mystery or impact.
The tricks and techniques of older generations are also well represented, including a full, professional, television presentation by Wittus Witt and other treats by Magic Christian, Piet Forton and Reinhard Mller. In total, this substantial volume contains enough variety, quality, entertainment and ingenuity to please the most experienced readers and performers of card magic.
NEW, hardcover with dust jacket, 233 pages
View full details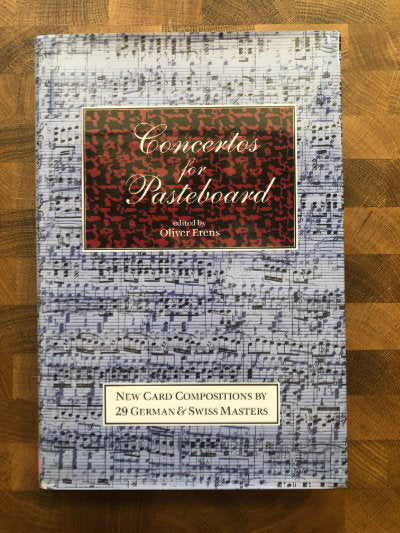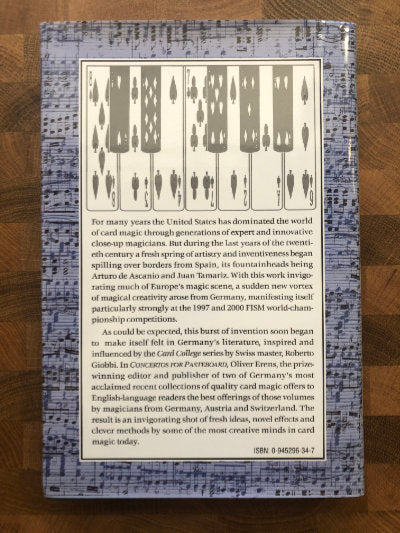 Free Shipping within the USA on all Book Orders

If your order consists of ONLY BOOKS, please choose MEDIA RATE shipping. When your order is shipped, your shipping payment will be refunded.