Regular price
$180.00 USD
Regular price
Sale price
$180.00 USD
Unit price
per
Sale
Sold out
"Para-Sight" (Restricted Series Release #1), dated November 1977, had a distribution of less than 100 official numbered copies, even though this particular copy is numbered #228 (Phil apparently did not number them sequentially). As well as being numbered, it is personally signed by Mr. Goldstein in red ink. I understand that over the years this has become the most sought-after routine manuscript of the series because of the small distribution, and very small amount that have survived since that time. It has been sold on ebay for as much as $400, although more recently it has been in the $150-$200 bracket.

The Effect: A book test, done with magazines supplied by members of the audience. The performer never touches the magazines - never goes near them. A spectator selects a magazine, then turns to a page nominated by other spectators. The spectator concentrates on that page. The mentalist "receives" the images the spectator is concentrating on.... and begins to accurately describe the key details of that page - pictures, titles, and/or drawings. It's as clean and direct as that!

This is a one-man effect - no secret assistants. The spectators do not write anything at any time. There is no fishing or pumping. The mentalist never touches the magazines - before, during, or after. The spectator may stand at the other end of the room, and may keep the magazines at the end as they are ungimmicked. Para-Sight can be done in any type of performing situation - stage or close-up; surrounded, if you wish. This is truly dynamic, performance-tested mentalism which is completely practical.

You will receive: The original Para-Sight manuscript consisting of 12 pages printed on yellow paper with the official hand written number and signature of Phil Goldstein, both in red. All pages are in good condition.

When asked how many manuscripts there were in the "Restricted Series" releases, Max simply stated, "One."
LIKE NEW, SIGNED & NUMBERED (#149) by Phil, November 1977
NOTE from Don: I have included a picture of when the previous owner purchased this manuscript, merely to see that it is fairly expensive.
View full details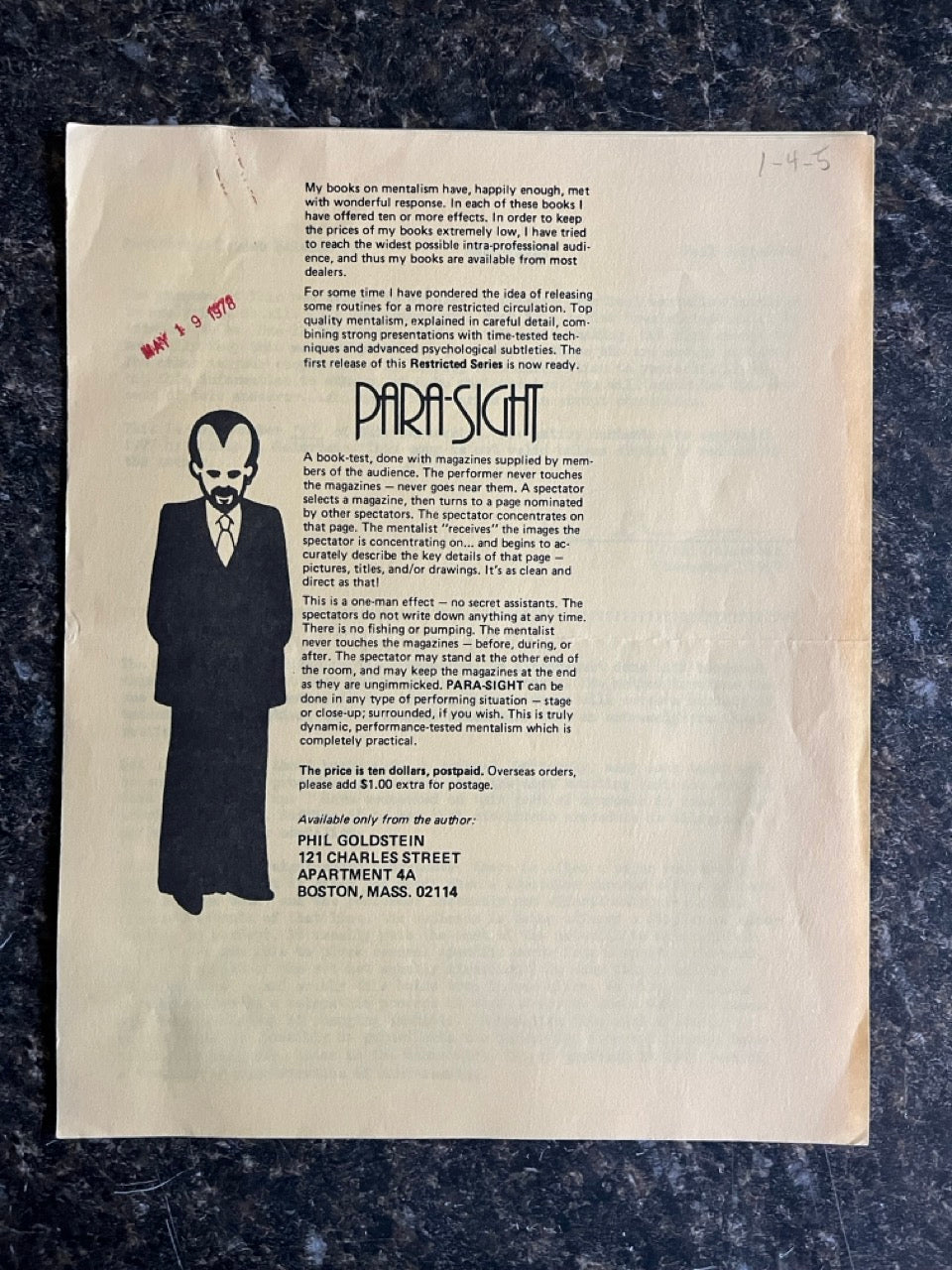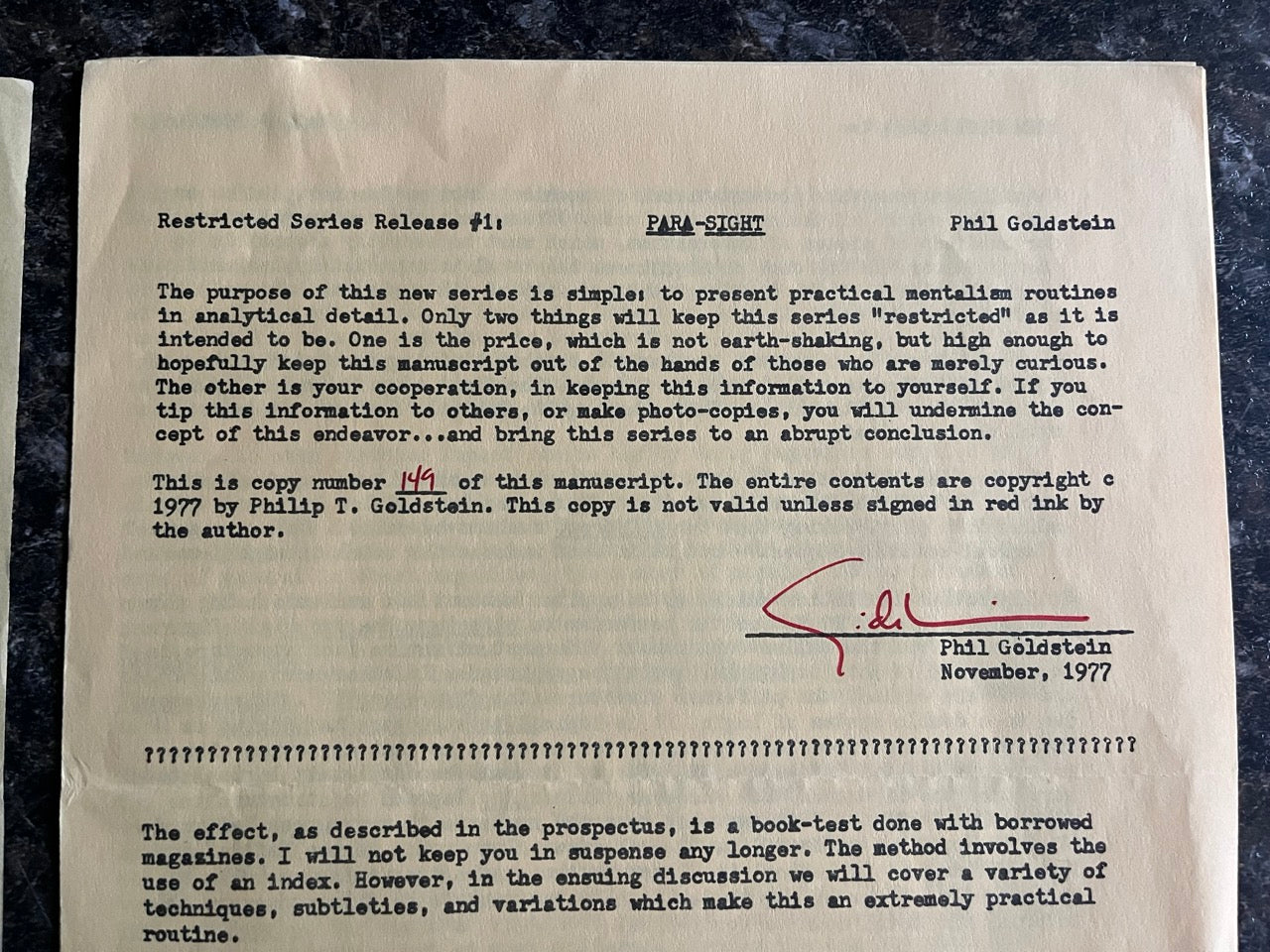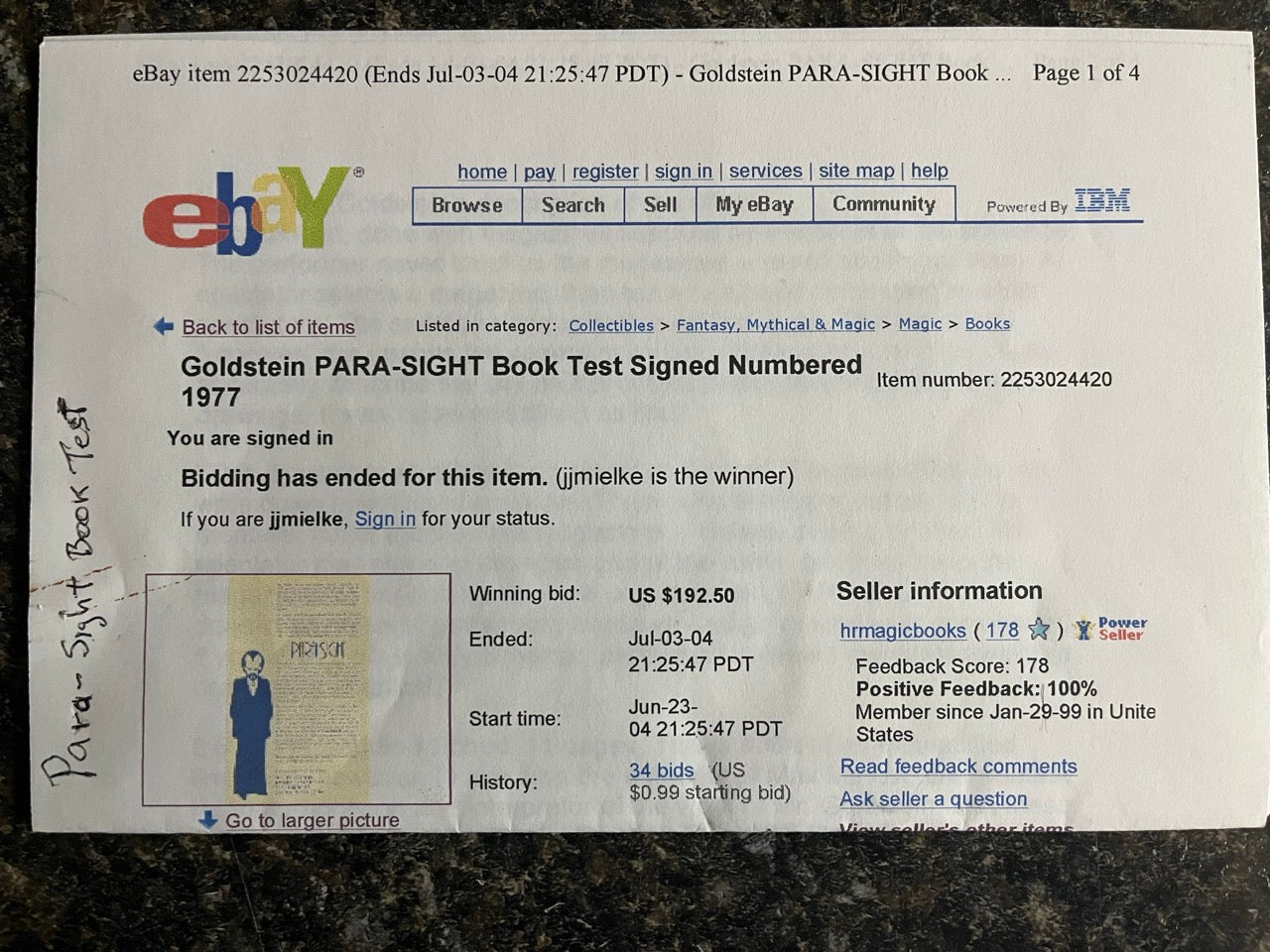 Free Shipping within the USA on all Book Orders

If your order consists of ONLY BOOKS, please choose MEDIA RATE shipping. When your order is shipped, your shipping payment will be refunded.